The American University of Paris is pleased to present the first solo exhibition in France of paintings by New York artist Katherine Dolgy Ludwig. "Light City" in forty of the artist's watercolors, representing three years of painting in "our Paris of luminescent beauty and shining imagination." Curated by Jonathan Shimony. The first solo exhibition in France of paintings by New York artist Katherine Dolgy Ludwig. "Light City" was curated by Jonathan Shimony.  Download booklet of AUP Paintings List. 
Vernissage June 6, 2019, Public June 7 – 24, 2019
The American University of Paris
6 Rue du Colonel Combes
75007 Paris
France
Preview some of the paintings here.
Contact: Katherine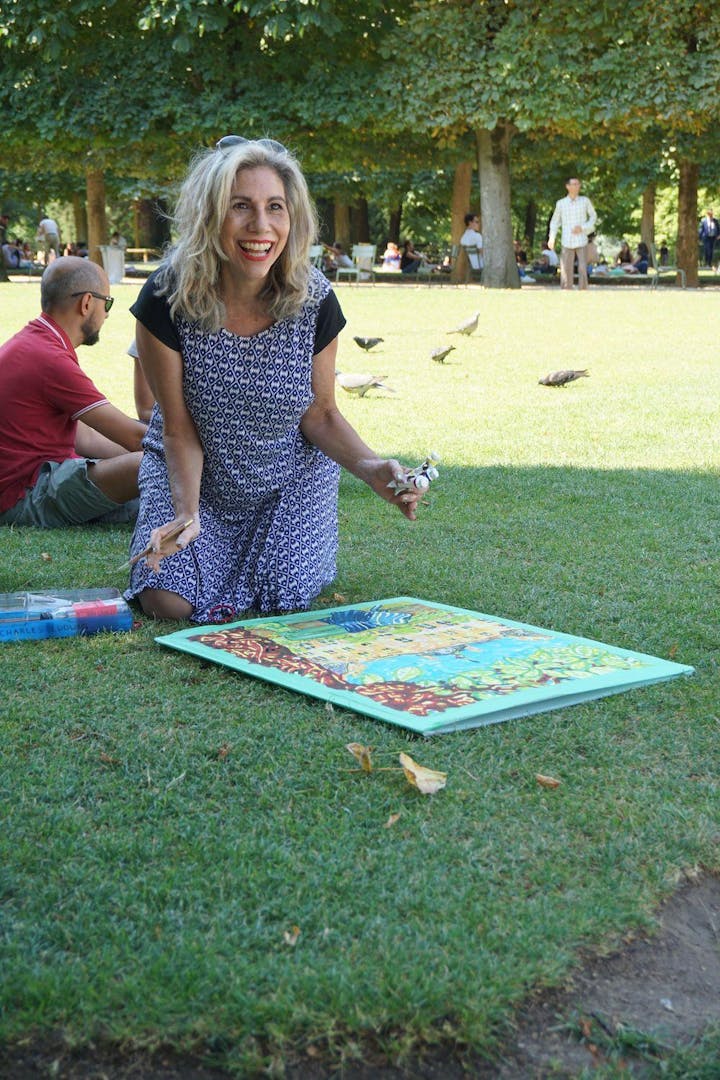 Katherine Dolgy Ludwig graduated in 2004 from the Chelsea College of Art MFA in Painting. Prior to this, she received her Bachelor of Architecture, and Bachelor of Arts in Classics, from the University of Toronto. The teachers who had the most influence on her art were Marshall McLuhan, Allan Bloom, Graham Coughtry, Peter Prangnell, and Chinkok Tan. She has been a professor and critic, and regularly returns to art history for visual information — Cimabue, Titian, Delacroix, Vuillard, Monet, Matisse, Kokoschka, Soutine — painters of the light source within.
The artist's oil paintings, watercolors, and etchings are in the permanent collections of the London Chelsea Arts Club, U.S. Pentagon, New York Mayor's Office, National Arts Club, London Globe Theatre, Playboy, and many other corporate and private collections in the U.S., Canada, Hong Kong, France, Australia, and the U.K. She is the recipient of Fellowships juried by critics at freeDimensional in Brooklyn, A.I.R. Gallery Chelsea, The Brooklyn Rail, NYU Tisch, and Art in America. Her art has been critically acclaimed by curators from the Metropolitan Museum of Art, the Brooklyn Museum, and the London Royal Academy, winning Best Watercolor at the National Arts Club three times. There is much feature press, including The New York Times, New York Daily News, NYU Humanus, Globe and Mail, Toronto Star, and Toronto Sun.
Katherine Dolgy Ludwig: "I hope you will be able to be in Paris June 2019 for my first solo exhibition here! And to have general fun in the city together, throughout May and June. Painting in Paris is so wonderful, part of this big year of painting people and places in cities and forests, including New York, London, Ontario's countryside, and Toronto Island, which you can see here.
"I keep it simple and I only work live. I am interested in the moment of connection between myself and a person or a place or an idea, and the alchemy of making that live on the paper, with three colors and one brush. Every aspect of the making of the work has to stay enjoyable, and this brings a luminous quality to the art, like a window. For painters, Paris is forever our "Light City."